It is IC card of JR East which is available by railroad, bus, shopping.

Mark is notified in available point.
We can pass ticket examiner just to make "pi" and one touch and can do shopping.
Three kinds of "Suica commuter pass" are to "Suica" "Suica card" and "My Suica" (naming).
There is the one for child to "My Suica" (naming) and "Suica commuter pass", too.
In addition, you can use "view Suica" that "mobile Suica" that "Suica" and cellular phone became one and "Suica" and view card became one cards.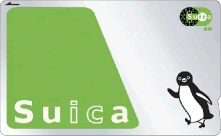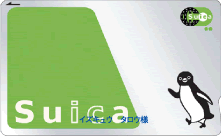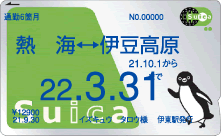 ※Photograph of card is image
We just touch reading part and can pay the difference automatically with putting in the pass case at the time of the use and can pass ticket examiner smoothly.
※Izukyu is only manned wicket. You touch simple ticket examiner installed near wicket, and please pass.
Usage of Suica in Izukyu

Please see homepage "Suica"

of JR East about the details about "Suica".
In addition, as, in the use of "Suica" in Izukyu, there is the handling unlike some JR East, too,
For more details, please confirm usage guidance

of Suica in Izukyu.